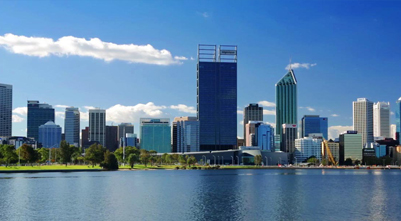 Western Australia is known as a quality education destination and presents many study opportunities for international students.Famous for its friendly people and relaxed atmosphere, Perth embodies the true Australian lifestyle. There are not many places left in the world where a passer-by will warmly greet you on the street or stop to have a chat. Australians love to interact with overseas visitors and embrace other cultures.
Perth is a city of growth, success and possibilities. Recent years have seen the benefits of our resources boom flow into every part of our lives, from education to transport, and tens of thousands of people have come to see the natural beauty of Western Australia and enjoy its year-round sunshine. The new international airport, along with the Perth Arena and expanding city rail network, riverside developments and beach-fronts are shaping Perth into Australia's western gateway for tourism and investment.
You can choose your course from a range of study options at universities, private higher education, vocational and English language institutions and schools in Perth and regional Western Australia. Whether it's English competency exam preparation, medicine, engineering, tourism, marketing or marine biology, you'll find a suitable course in Perth.
The Western Australian education system is recognised around the world and can help you succeed in your career, in further studies and in life.

As an international student studying in Perth, you'll have the peace of mind of knowing that your interests and your place in your course are protected by government laws. There are strict regulations and quality assurance systems in place which protect students and ensure that they receive a quality education.
Western Australia by numbers*
WA Population – 2,567,800.
Perth Population – 2.1 million people.
Aboriginal and Torres Strait Islanders account for 3.1 percent of the Western Australian population
The top five languages (Other than English) – Mandarin, Italian, Filipino/Tagalog, Vietnamese and Cantonese.
The top five countries of birth (other than Australia) – England, New Zealand, India, South Africa and Philippines.
Western Australia is Australia's largest state – total area is 2,529,875 km2 (33 % of Australia's total land mass)
Cost of living in Perth WA (Per Week)
Average Accommodation costs: AUD $150-260 (Shared House or Apartment)
Public Transport: AUD $20-$50
Food: AUD $60-$100
Schooling Obligations for Dependants
Where school aged children are included in your student visa application, schooling costs of AUD8,000 per year for each child will need to be added to the amount of funds that is required. This amount is the minimum required for a visa application only and you are responsible for researching schooling costs, which may vary widely between states, territories and schools in Australia.
You do not have to provide evidence of schooling costs if you are:
A PhD student and can show you have enrolled your child in an Australian government school where the fees have been waived
Received an Australian Commonwealth Government scholarship, including Foreign Affairs and Defence sponsored students, and you can show you have enrolled your child in a government school where the fees have been waived.
(Source: Department of Home Affairs)
For more information on schooling options, please refer to: Study West: www.studywest.des.wa.gov.au/studyinwa/Schooling/Pages/default.aspx
For the private schools in Western Australia information can be obtained directly from: Private Schools Directory:
http://www.privateschoolsdirectory.com.au/perth-schools.php
Association of Independent Schools Western Australia: www.ais.wa.edu.au
For more information, contact APEIRO INSTITUTE atinfo@apeiroinstitute.edu.au
The Department of Immigration and Border Protection has financial requirements you must meet in order to receive a student visa for Australia. As of October 2019, the 12 months living cost is estimated at $21,041 per year for a single Individual. For more information on the latest requirements and costs refer to https://www.studyinaustralia.gov.au/english/live-in-australia/living-costs
Getting Around in Perth
Getting around the City of Perth is easy and doesn't necessarily need to cost you anything! Public transport can be a quick and convenient option for many trips. The City of Perth is the primary destination for public transport with connections to all of metropolitan Perth. Instead of risking traffic, try the bus or train. You can sit back and relax, save on car running and parking costs and avoid the hassles of driving while helping the environment!
Being on a student visa benefits you in obtaining Student Concession fare for your travel on Public Transport (Transperth) in Perth. All you need to do is show your APEIRO INSTITUTE student ID card when you register for the SmartRider or when you buy a ticket form the driver for buses.
A Free Transit Zone (FTZ) also operates within the City of Perth boundaries. You can travel on any Transperth bus within the boundary limits for free. APEIRO INSTITUTE is located in the Free Transit Zone with bus stops just around the corner.
FTZ signposts are displayed on the route limits. For travel outside the FTZ, you may purchase a ticket from the driver or purchase a SmartRider from the Perth Railway Station on Wellington Street or selected outlets.
Transperth trains are a division of the Public Transport Authority of Western Australia. The Public Transport Authority operates Perth metropolitan rail system as part of Transperth network.
For further information, visit Transperth Information Centre's at bus stations and train stations.
Phone Transperth: 13 6213
Transperth Website: www.transperth.wa.gov.au
Transperth ferry services across the Swan River to the South Perth foreshore leave from the Elizabeth Quay Ferry Terminal, located under the big blue canopy on the Western Promenade. You can cross to South Perth in around ten minutes to visit the Perth Zoo and delight in the views of Elizabeth Quay from the South Perth foreshore.
The ferry kiosk opens daily from 8am to 4pm.
Designated taxi ranks are located around the central city for safe and convenient travel. Supervised taxi ranks operate on Friday and Saturday nights. These ranks are located on Milligan Street Northbridge and William Street Perth. Taxis may also be hailed on the street or ordered by telephone (13 CABS)
Additionally, Ride Share services are available across Perth through various providers.
Places to Visit in and around Perth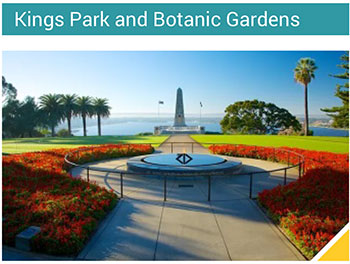 One of the largest inner-city parks in the world, Kings Park and Botanic Garden covers 400 hectares of Perth's heart with serene natural bushland and sculpted gardens. It's perched high on the crest of Mount Eliza, making it a top spot to take in sweeping panoramas of Perth's city skyline and Swan River.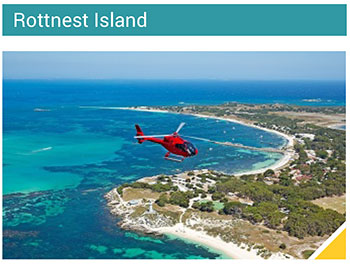 Famous for its laid back atmosphere and beautiful beaches, Rottnest Island lies just 18 kilometres offshore from Perth surrounded by the sparkling Indian Ocean. This is where the locals go to swim, surf, snorkel, fish and relax.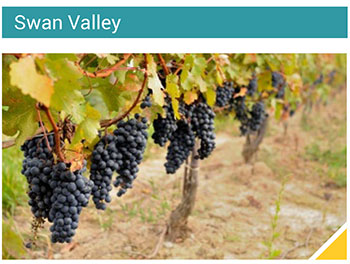 Located 25 minutes from Perth City, the Swan Valley is home to an ever-growing list of restaurants and cafes, wineries, breweries and artisan wares. It is packed with fresh seasonal produce, with countless restaurants and cafes offering everything from fine dining to salt-of-the earth pub grub to traditional high tea.The Swan Valley is the first and only Humane Food Region in Australia. This initiative is a regional commitment to supporting the welfare of animals and producing high quality, healthier, tastier food.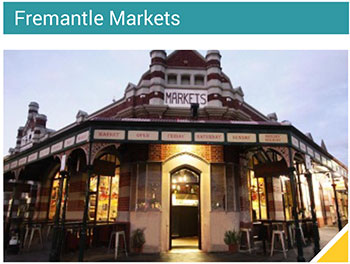 Built in 1897, Fremantle Markets is one of the port city's most significant landmarks and has rightfully earned itself a reputation as one of the best destinations in Fremantle for locals and tourists alike, as well as a leading source of independent wares and produce.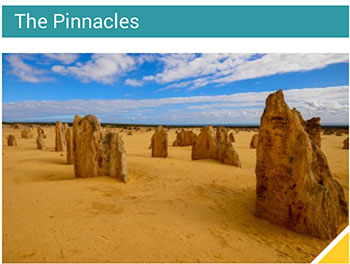 Attracting over 190,000 visitors each year, the Pinnacles of Nambung National Park are the major natural attraction in the Coral Coast region of Cervantes and Jurien Bay. The park is located roughly 200 kilometres north of Perth and covers an area of 17,487 hectares, providing natural habitat for an extensive array of native animals and bird life.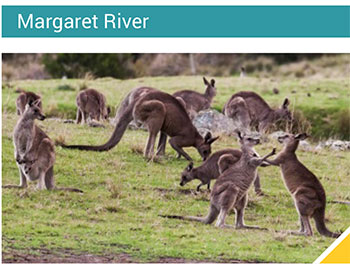 Margaret River is a small town 277 kms south of Perth in Western Australia, known for its craft breweries, boutiques and surrounding wineries. Beaches and surf breaks line the nearby coast, whose waters host migratory whales (Jun–Nov). Stretching between 2 lighthouses north and south of the town, the long-distance walk, the Cape to Cape Track, fringes the limestone caves and sea cliffs of Leeuwin Naturaliste National Park.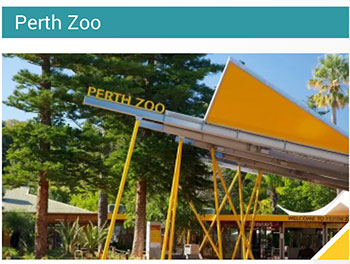 With 1,200 different animals from over 160 species, the 1.7million-square-metre Perth Zoo dates all the way back to 1898 and attracts hundreds of thousands of visitors year on year. Holidaymakers flock here to admire the local wildlife they can learn so much about, alongside a range of other exhibits demonstrating species from four different continents around the world.