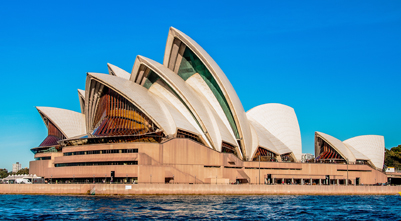 New South Wales is home to world-class universities, vocational schools, and research organizations that deliver cutting-edge, industry-relevant education. It offers a wide range of courses and degrees and enjoys a strong reputation for internationally respected qualifications, high-quality research and teaching, cultural diversity, and a safe study environment.
Sydney is known as the largest city in Australia and is one of the most popular destinations for higher education. It is the home of many world-famous attractions such as Sydney Opera House, Bondi Beach, The Rocks, Sydney Harbor Bridge, Sydney Harbor, Paddy's Markets, Darling Harbor, the Blue Mountains and many more.
If you are a fan of shopping, Sydney provides arguably the best shopping experience in Australia. There are local shopping markets, famous shopping streets, and luxurious shopping malls for all your needs. Sydney's weather is also known to be the best, not too cold during winter, and not too hot during summer.
As the largest student city in Australia, Sydney houses a large number of international students, including Indians, Chinese and Southeast Asians.
As an international student, you will be able to experience various international cultures from the mix of international students in Sydney.
New South Wales by Numbers*
NSW Population – 8,166,000.
Sydney Population – 5.3 million people.
Aboriginal and Torres Strait Islanders account for 3.4 percent of the population.
The top five languages (Other than English) – Mandarin, Arabic, Cantonese, Vietnamese, and Greek.
The top five countries of birth (other than Australia) – China, England, India, New Zealand and Philippines.
NSW is Australia's most populated state, and its biggest city, Sydney is also the most populated city in Australia.
Cost of living in Sydney (Per week)
Average Accommodation costs: AUD $150-250 (Shared House or Apartment)
Public Transport: AUD $50-$65
Food: AUD $60-$100
Schooling Obligations for Dependents
Where school aged children are included in your student visa application, schooling costs of AUDB,000 per year for each child will need to be added to the amount of funds that is required. This amount is the minimum required for a visa application only and you are responsible for researching schooling costs, which may vary widely between states, territories and schools in Australia. You do not have to provide evidence of schooling costs if you:
Are you a PHD student and can show you have enrolled your child in an Australian government school where the fees have been waived
Have received an Australian Commonwealth Government scholarship, including Foreign Affairs and Defence sponsored students, and you can show you have enrolled your child in a government school where the fees have been waived.
(Source: Department of Home Affairs)
For the private schools in Victoria, information can be obtained directly from: Private Schools Directory: https://www.privateschoolsdirectory.com.au/sydney-schools.php
For more information, contact APEIRO INSTITUTE at info@apeiro.edu.au
The Department of Immigration and Border Protection has financial requirements you must meet in order to receive a student visa for Australia. From 23 October 2019, the 12-month living cost is estimated at $21,041 per year for a single Individual. For more information on the latest requirements and costs refer to https://www.studyin australia.gov. au/english/live-in-australia/living-costs
Getting Around in Sydney
New South Wales has the biggest public transport system in Australia. The public transport system is regulated by Transport for NSW. Students in New South Wales can use the Opal ticketing system for contactless payments. The public transport operating modes include suburban rail, light rail, buses, metros, and ferries. In terms of traveling for work and studies, Sydney has the highest rate of public transport usage in Australia. As a tertiary student, you are eligible to get concession on your travels using public transport. This allows you to have discounted fares on all public transport when you use the Opal transport card.
Public Transport (Opal)
Other Transport
Places to Visit in and around Sydney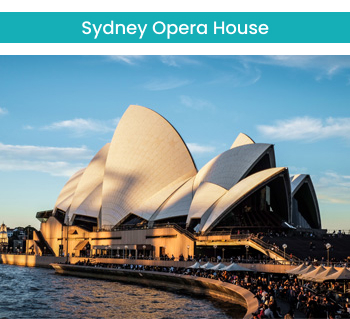 The Sydney Opera House is a multi-venue performing arts centre in Sydney. Located on the banks of Sydney Harbour, it is widely regarded as one of the world's most famous and distinctive buildings and a masterpiece of 20th century architecture.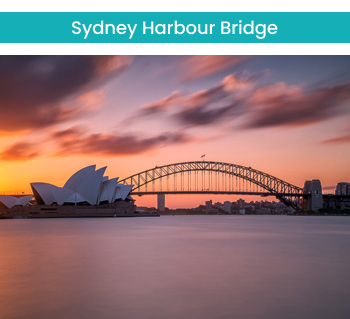 The Sydney Harbour Bridge is a steel through arch bridge in Sydney, spanning Sydney Harbour from the central business district (CBD) to the North Shore. The view of the bridge, the harbour, and the nearby Sydney Opera House is widely regarded as an iconic image of Sydney, and of Australia itself. Nicknamed "The Coathanger" because of its arch-based design, the bridge carries rail, vehicular, bicycle and pedestrian traffic.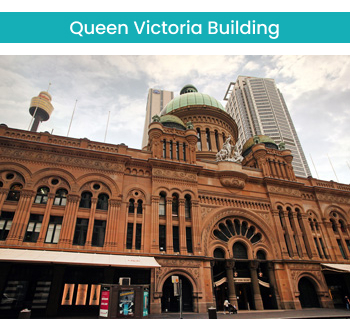 The Queen Victoria Building is a heritage-listed late-nineteenth-century building designed by the architect George McRae located at 429–481 George Street in the Sydney central business district, in the Australian state of New South Wales.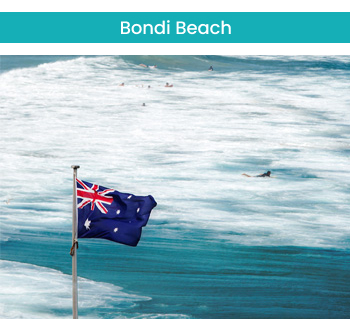 The sweeping white-sand crescent of Bondi is one of Australia's most iconic beaches. Reliable waves draw surfers while, nearby, hardy locals swim in the Icebergs ocean pool year-round. Trendy, health-conscious Sydneysiders head to laid-back cafes around Hall Street, while hip backpackers frequent the area's casual pubs. Walkers and joggers use the clifftop Bondi to Coogee Coastal Walk, with its dramatic scenery.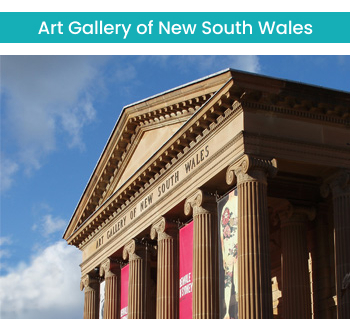 The Art Gallery of New South Wales, founded as the New South Wales Academy of Art in 1872 and known as the National Art Gallery of New South Wales between 1883 and 1958, is located in The Domain, Sydney, Australia. It is the most important public gallery in Sydney and one of the largest in Australia.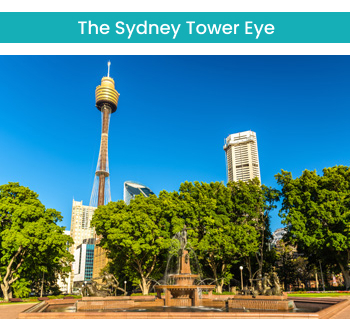 Sydney Tower is Sydney's tallest structure and the second tallest observation tower in the Southern Hemisphere. It has also been known as Centrepoint Tower, AMP Tower, and colloquially as Flower Tower, Glower Tower, and Big Poke.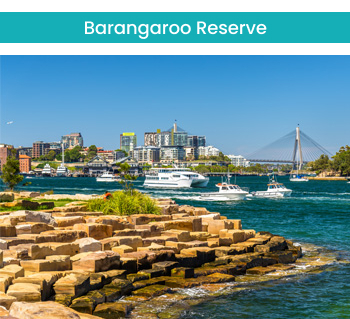 Barangaroo Reserve is Sydney's newest Harbour foreshore park – marking the transformation of one of the city's oldest industrial sites into a spectacular, six-hectare headland open space for Sydneysiders and visitors to embrace and enjoy.